Weddings
A Day for You to Treasure
Turn your wedding day in Birmingham, Michigan into an enchanting experience you and your guests will never forget. The luxurious facilities and services at The Townsend Hotel will make sure everything is taken care of, so all that's left for you to worry about is making memories. Explore our packages, amenities, and special touches below.
Complimentary services include:
Tables
Banquet Chairs
Linen
Glass, China & Silver
Townsend Chargers
Votive Candles
Table Numbers
Stage
Dance Floor
Bridal Suite (Based on Availability)
Wedding Room Blocks (Based on Availability)
White Glove Service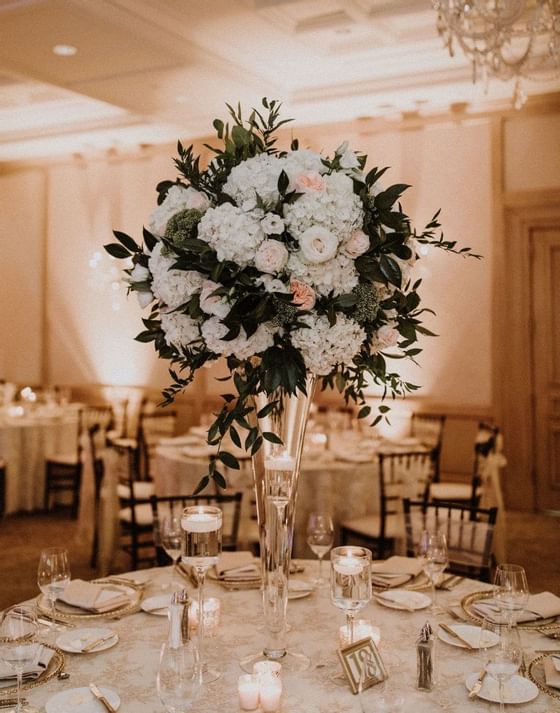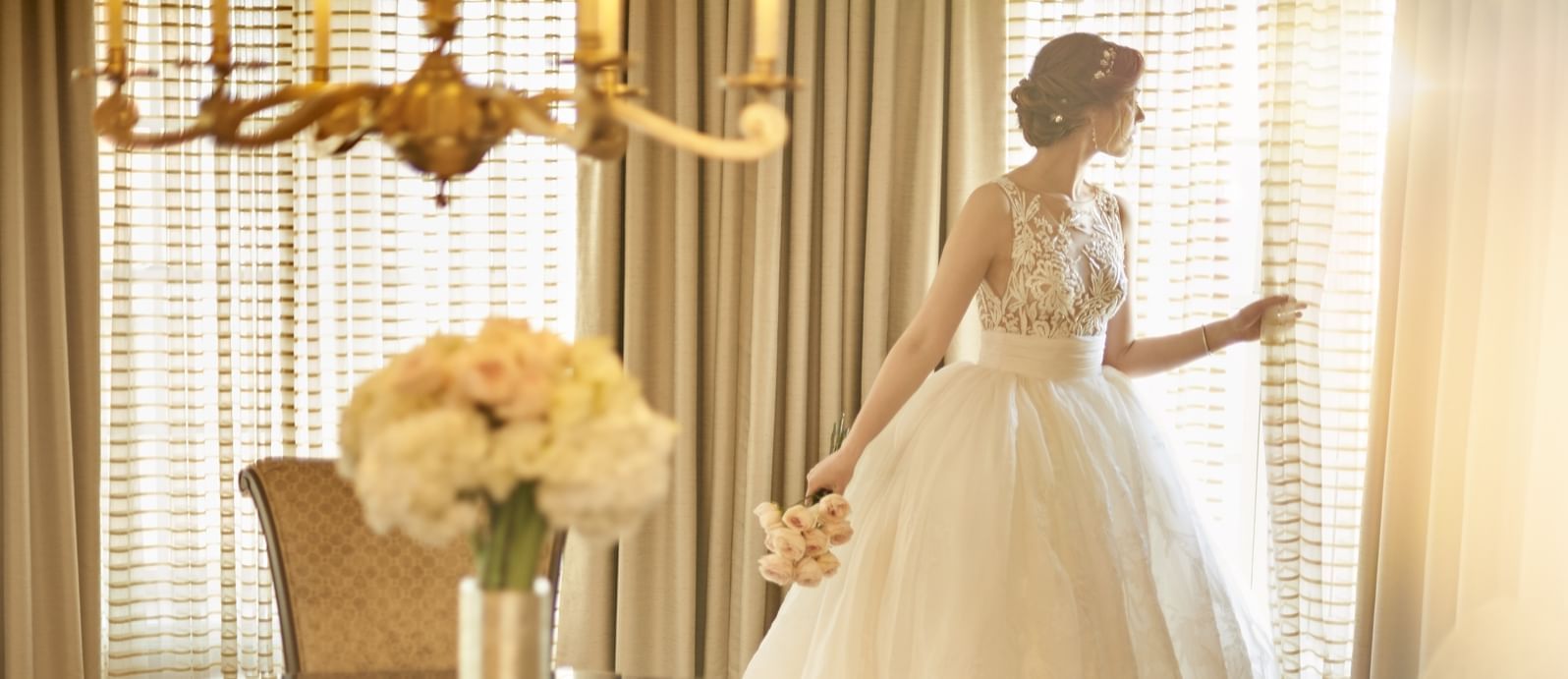 Your Stay
Bridal suite, group bookings and those special touches from The Townsend Hotel.
Bridal Events & Functions
The Townsend Hotel would be honored to host any of your wedding related events. Please call us to review availability and pricing for your upcoming celebrations.
Tying the knot at The Townsend Hotel
At The Townsend Hotel, we recognize how important your wedding events are, and we strive to provide unparalleled service.
Hear what some of our recent couples had to say:
… beyond what we could have dreamed

Now that I have come back down to earth, I feel like I can coherently get my thoughts together!

Our wedding was anything beyond what we could have dreamed, and it is because of you. Having our reception at the Townsend was the best decision we made. From start to finish, our experience was exceptional. You were so helpful, treated us with such kindness, you really made everything seem effortless. I can't thank you enough for making our planning experience actually enjoyable.

The reception was more beautiful than anything I could have ever imagined. I was absolutely blown away when I walked in. It looked like a dream. The service was exceptional (people are still talking about how much they love Romero), the food was beyond delicious, everything was classy, elegant, and exactly what I hoped for. It was truly the wedding of our dreams.

You and the Townsend will always have a special place in my heart for giving us the best day of our lives. I truly cannot thank you enough for everything. Your kindness and compassion will stay with me for a very long time. Love, Alexandra
The event was a great success.

On behalf of Kathy and myself we cannot thank you enough for helping to make Paige and Dean's wedding everything they dreamt. You and your team's personal attention to this event, which was reflected in all the special details, were greatly appreciated.

Given all the moving parts that were in motion leading up to and on the day of the wedding, you showed just why you are the go-to place for creating lasting memories. The event was a great success. Thank you not only for your creative and logistical expertise, but also for your quick responses and attention leading up to the event. Even with ample time to plan, last minute changes and requests were created and your swift turnaround was especially appreciated. The professionalism and enjoyment of what you do was evident in the calming smiles and positive energy during the busiest moments.

We wish you continued success and will be looking for ways we can work together again soon. All our very best, Eric and Kathy
There are not enough words to express how truly thankful we are…

There are not enough words to express how truly thankful we are for EVERYTHING you have done to ensure that our wedding weekend is perfectly special and everything we could have ever wanted.

You have been an absolute pleasure to work with and your dedication to our event, professionalism, hard work, ideas, guidance and friendly demeanor have been/are so appreciated. You are so wonderful at your job - we would have not gotten here without you. You have made us feel like royalty and dramatically simplified the wedding planning process. We feel so lucky!

Thank you again, so, so much from the bottom of our hearts. You are truly the best! Love, Amy and Matt
One word describes the entire evening. Fantastic!

On August 5th my daughter had her wedding at your Hotel. I thought you might like to know how things turned out? One word describes the entire evening. Fantastic! Perfect! Oops, that's 2 words.

Your staff was incredibly accommodating....The Hors d'oeuvres were outstanding. Everything was the correct temperature with more than enough servers who made sure no one waited for food. The bars were plentiful and the wine & liquor flowed without anyone waiting.
The cherry on top was the dinner and dessert. The servers brought out each source to all the tables simultaneously. None of my guests had to wait and no one was done eating way ahead of the others as I've experienced so many times in other affairs. The dinner and the dessert tasted out of this world. This was as fine a meal as any 5 star restaurant.

All my guests raved about the hotel and level of service AND the hors d'oeuvres, dinner and dessert.... There is only one word for that evening. Perfect. Sincerely, Larry and Jackie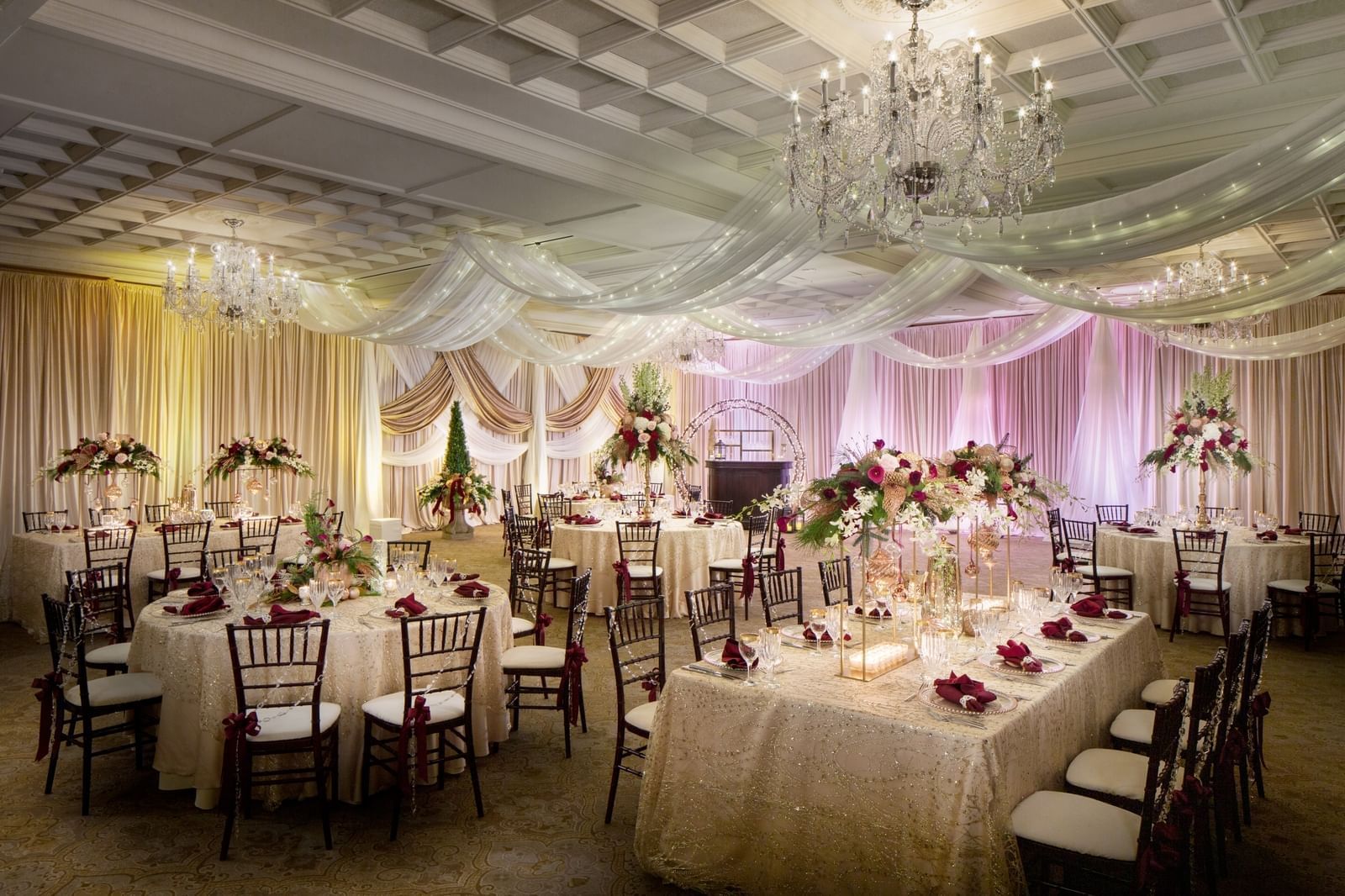 Meet Our Wedding Specialists
The Townsend Wedding Way all starts in the Catering Department with Lizz Smith and Merritt Rosenthal. At the very heart of this team is the authentic desire to provide anticipatory and impeccable service, seamless planning and inspired weddings. Knowing this day in a couple's life is so very important, Lizz and Merritt appreciate and take the calculated steps to ensure a well-orchestrated wedding experience. Together, they center themselves on The Townsend Wedding Way by getting to know the client; anticipating the needs of every client; understanding each event; and whole-heartedly believing in a full-service approach.